The textile dyeing factory De-Ca Stamp s.r.l. was born on July 14, 1984 from the ambitious union of Mr. Guido De Carli and his wife Mrs. Giancarla Braga, now their family business is continued by their three children.
Initially, the factory was located in Lurate Caccivio (Como) and consisted of 22 employees and it was specialized in textile finishing, preparation and colouring of fabrics, mostly lycra with a flat-printing system and board stamping.
In 2003, the De Carli family acquired a new modern workspace, located on 85 Ferloni street in Bulgarograsso (Como), this building is still the company's registered office.
The number of employees increased to 47 persons and production also expanded. The printing machines of the planar system were joined by a rotary press, two combined printing systems (planar and rotary), Rameuse. The entire production cycle (preparation, printing, finishing) was now inside one factory.
The variety of fabrics processed during these years, has allowed De-Ca Stamp to gain experience with a huge variety of textile fibers: cotton, silk, polyester, viscose, lycra and blends; designed primarily for the clothing market.
In 2008 high quality requirements, the constant research for new materials and design, led to the opening of a department for inkjet printing, which initially consisted of two machines and soon three more digital printing systems were added, one of which is dedicated to large-scale production.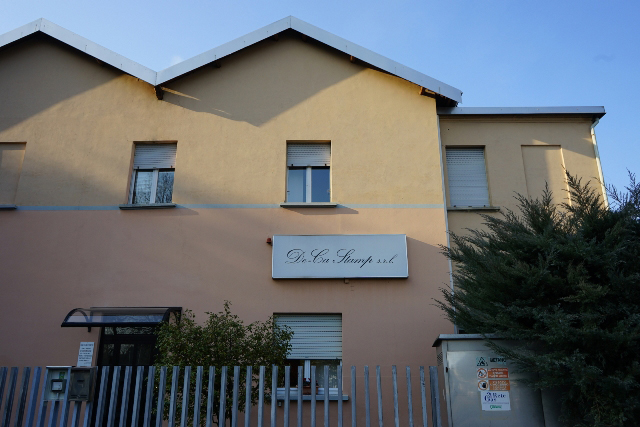 In July 2013, the factory equipped its own laboratory, which carries out tests and inspections of the treated fabrics, such as resistance to friction, sweat, water and determination of pH.
The youngest department of the company is "10dency" - a small converter, born in 2017. Managed by a creative and dynamic team, "10dency" uses the thirty-year experience of De-Ca Stamp in creating design and new ways of finishing fabrics, offering its own collection and giving the opportunity to create a unique product for each client.
At the international level factory De-Ca Stamp is known for its high level of refinement of the tissues, mainly in the production of shirts, corrosion-printing, creating new effects and design of fabrics. De-Ca Stamp factory always keeps up with the times providing a high level of quality and services, first of all, satisfying the needs of customers, both in terms of performance of work and from a humanistic point of view.